Recompiled by SCTJM
History of Our Lady of Aparecida
The devotion to Our Lady of the Conception Aparecida, more commonly known as "Our Lady of Aparecida", has a very special meaning. It came about when a group of fishermen, after several useless attempts, asked the intercession of Our Lady, but instead of a fish, they caught a small image of Our Lady of the Conception Aparecida made of terracota. The title of "Aparecida" derives from the verb "appear" since it was in a moment of great need that the fishermen found her they realized that this event indicated a sign of intercession of the Virgin. The image had a dark color and was blackened because of the type of material it was made from and from having been lost in the river.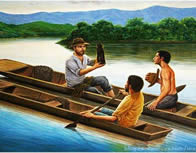 This miracle occurred in the second half of October in the year 1717, when the count of Assumar and governor of the infantry of São Paulo and Minas of Ouro, Don Pedro de Almeida, was passing by the city of Guaratinguetá, located in the valley of Paraiba, during a trip to Vila Rica. The inhabitants of Guaratinguetá decided to celebrate a great feast in honor of Don Pedro de Almeida, and though it was not a good season for fishing, they cast their nets in the Paraiba River, in an attempt to get some fish for the event. The fishermen Domingos Garcia, João Alves y Filipe Pedroso prayed asking the intercession of Our Lady. After several attempts, they went downstream until they arrived at the port Itaguaçu. When they were about to abandon their attempt at fishing, João Alves threw his nets another time and in place of a fish, they picked up the body of a statue of Our Lady of the Immaculate Conception, but without the head. Once again casting the net, they caught the head, which fit perfectly with the body of the statue.

After having recovered both parts, the image of the Virgin of Aparecida became so heavy that they could not move it. The fishermen then caught so much fish that they were forced to return to the port, because their boats almost sunk. This was the first miracle attributed to Our Lady of Aparecida.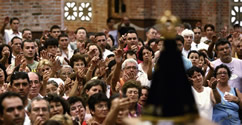 This event reminds us of the passage in the Gospel where after having spent all night attempting to fish; Peter only achieved success in the moment that he casts his nets in the name of Christ. A new miraculous catch had occurred and it moved the faith of the people. During 15 years, the image remained in the home of Filipe Pedrosa, but the multitude of people that went to pray and to ask for the intercession of Our Lady of Aparecida increased so much that it became necessary to move it to a private chapel. In 1834, the construction of the old basilica began which was inaugurated on December 8, 1888.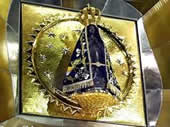 On September 8, 1904, the image was crowned with a crown of jewels donated by Princess Isabel and dressed in a robe, embroidered in gold and other precious jewels, recognizing therefore Her royalty and powerful protection. After the crowning the Holy Father granted the sanctuary of Aparecida office and mass proper to honor Our Lady of Aparecida and indulgences to the pilgrims that visit the sanctuary. On April 29, 1908, the church received the title of minor basilica, consecrated on September 5, 1909. On December 17, 1928, the population that had formed around the church in the heights of Morro dos Coqueiros became a city, taking the name of Aparecida. Our Lady of the Conception Aparecida, was proclaimed Queen and Patron of Brazil on July 16, 1930, by decree of Pope Pius XI. With the enormous increase of pilgrims, the necessity arose for a larger place for the multitude of faithful. In 1955 the construction of a new basilica began.

The architect Benedicto Calixto imagined a building in the shape of a Greek cross, 173 meters long and 168 meters wide, the nave of 40 meters and 70 meters for the tall dome.
On July 4, 1980, Pope John Paul II, during his visit to Brazil, consecrated the Basilica of Our Lady of Aparecida and declared it a major Marian sanctuary in the world.

The Basilica of Aparecida was also the scene of the fifth General Conference of the Episcopate of Latin America and the Caribbean from May 13 to 31 in 2007. Pope Benedict XVI inaugurated the conference and invited all of Latin America to the continental mission, to become each day more missionary disciples.
Homily of Pope Francis at the Shrine of Aparecida
World Youth Day 2013

My Brother Bishops and Priests,
Dear Brothers and Sisters,

What joy I feel as I come to the house of the Mother of every Brazilian, the Shrine of our Lady of Aparecida! The day after my election as Bishop of Rome, I visited the Basilica of Saint Mary Major in Rome, in order to entrust my ministry as the Successor of Peter to Our Lady. Today I have come here to ask Mary our Mother for the success of World Youth Day and to place at her feet the life of the people of Latin America.

There is something that I would like to say first of all. Six years ago the Fifth General Conference of the Bishops of Latin America and the Caribbean was held in this Shrine. Something beautiful took place here, which I witnessed at first hand. I saw how the Bishops – who were discussing the theme of encountering Christ, discipleship and mission – felt encouraged, supported and in some way inspired by the thousands of pilgrims who came here day after day to entrust their lives to Our Lady. That Conference was a great moment of Church. It can truly be said that the Aparecida Document was born of this interplay between the labours of the Bishops and the simple faith of the pilgrims, under Mary's maternal protection. When the Church looks for Jesus, she always knocks at his Mother's door and asks: "Show us Jesus". It is from Mary that the Church learns true discipleship. That is why the Church always goes out on mission in the footsteps of Mary.

Today, looking forward to the World Youth Day which has brought me to Brazil, I too come to knock on the door of the house of Mary – who loved and raised Jesus – that she may help all of us, pastors of God's people, parents and educators, to pass on to our young people the values that can help them build a nation and a world which are more just, united and fraternal. For this reason I would like to speak of three simple attitudes: hopefulness, openness to being surprised by God, and living in joy.


1. Hopefulness. The second reading of the Mass presents a dramatic scene: a woman – an image of Mary and the Church – is being pursued by a Dragon – the devil – who wants to devour her child. But the scene is not one of death but of life, because God intervenes and saves the child (cf. Rev 12:13a, 15-16a). How many difficulties are present in the life of every individual, among our people, in our communities; yet as great as these may seem, God never allows us to be overwhelmed by them.
In the face of those moments of discouragement we experience in life, in our efforts to evangelize or to embody our faith as parents within the family, I would like to say forcefully: Always know in your heart that God is by your side; he never abandons you! Let us never lose hope! Let us never allow it to die in our hearts! The "dragon", evil, is present in our history, but it does not have the upper hand. The one with the upper hand is God, and God is our hope!
It is true that nowadays, to some extent, everyone, including our young people, feels attracted by the many idols which take the place of God and appear to offer hope: money, success, power, pleasure. Often a growing sense of loneliness and emptiness in the hearts of many people leads them to seek satisfaction in these ephemeral idols. Dear brothers and sisters, let us be lights of hope! Let us maintain a positive outlook on reality. Let us encourage the generosity which is typical of the young and help them to work actively in building a better world. Young people are a powerful engine for the Church and for society.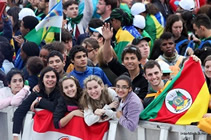 They do not need material things alone; also and above all, they need to have held up to them those non-material values which are the spiritual heart of a people, the memory of a people. In this Shrine, which is part of the memory of Brazil, we can almost read those values: spirituality, generosity, solidarity, perseverance, fraternity, joy; they are values whose deepest root is in the Christian faith.

2. The second attitude: openness to being surprised by God. Anyone who is a man or a woman of hope – the great hope which faith gives us – knows that even in the midst of difficulties God acts and he surprises us. The history of this Shrine is a good example: three fishermen, after a day of catching no fish, found something unexpected in the waters of the Parnaíba River: an image of Our Lady of the Immaculate Conception. Whoever would have thought that the site of a fruitless fishing expedition would become the place where all Brazilians can feel that they are children of one Mother? God always surprises us, like the new wine in the Gospel we have just heard. God always saves the best for us. But he asks us to let ourselves be surprised by his love, to accept his surprises. Let us trust God! Cut off from him, the wine of joy, the wine of hope, runs out. If we draw near to him, if we stay with him, what seems to be cold water, difficulty, sin, is changed into the new wine of friendship with him.

3. The third attitude: living in joy. Dear friends, if we walk in hope, allowing ourselves to be surprised by the new wine which Jesus offers us, we have joy in our hearts and we cannot fail to be witnesses of this joy. Christians are joyful, they are never gloomy. God is at our side. We have a Mother who always intercedes for the life of her children, for us, as Queen Esther did in the first reading (cf Est 5:3).
Jesus has shown us that the face of God is that of a loving Father. Sin and death have been defeated. Christians cannot be pessimists! They do not look like someone in constant mourning. If we are truly in love with Christ and if we sense how much he loves us, our heart will "light up" with a joy that spreads to everyone around us. As Benedict XVI said: "the disciple knows that without Christ, there is no light, no hope, no love, no future" (Inaugural Address, Fifth General Conference of the Bishops of Latin America and the Caribbean, Aparecida, 13 May 2007, 3).

Dear friends, we have come to knock at the door of Mary's house. She has opened it for us, she has let us in and she shows us her Son. Now she asks us to "do whatever he tells you" (Jn 2:5). Yes, dear Mother, we are committed to doing whatever Jesus tells us! And we will do it with hope, trusting in God's surprises and full of joy. Amen.
The Prayer that Pope Francis Prayed in Private before the Image of Our Lady of Aparecida

"Mother Aparecida, just as you one day, today I feel,
before you and before my God,
He proposes for our life a mission whose outline and limitations are unknown,
with demands we can barely glimpse. But in our faith that for God nothing is impossible, you, Mother, did not doubt and I cannot doubt either.
"Behold, I am the handmaid of the Lord. May it be done to me according to your word.",
In the same way Mother, as you, I embrace my mission,
I place my life in your hands, so that we may go, you Mother and your Son,
To walk together, to grow together, to struggle together, to conquer as always together;
Journeying, you and your Son.

"Woman behold your son, son behold your mother".
Mother Aparecida, one day you took your Son to the temple to consecrate Him to the Father,
So that He may be completely available for His mission,
Take me to the same Father; consecrate me to Him with all that I am
And with all that I have, here I am, send me.

Mother of Aparecida, I place in your hands,
So that you may elevate to the Father, our youth,
Our youth, our World Youth Day,
How much strength, how much life, how much dynamism which blooms and explodes
And that can be at the service of life and of humanity.
Father, embrace and sanctify your youth.
Finally Mother, we ask you to remain here always,
Embracing your pilgrim sons and daughters,
But also come with us, be always at our side and accompany us in our mission,
with the large family of faithful, especially those of us who carry the most heavy crosses
sustain our hope and our faith; 'be faithful until death and you will receive the crown of life.'
Amen".
Return to Main Page of Marian Apparitions and Advocations...
Links
http://www.rio2013.com/en/
http://campus.udayton.edu/mary/resources/engone.html